We share the wealth to grow your wealth.
What is Emrit? It's a revolutionary combination of platform and services that eliminates global barriers to passive income and entrepreneurship. You could also call it blockchain for dummies—it's that easy. 
How? You choose your free or subsidized hardware, get your technology set up in your office or home, then sit back and watch Emrit work for you. Sounds too good to be true? It's not. When you earn, we earn, which allows us to share free hardware and passive income with the world. Let's get started.
Start earning cryptocurrency. It's easy.
Internet of Things
Emrit CoolSpots™ earn HNT cryptocurrency by deploying an internet signal (LoRa) that powers the Helium Network, the world's first decentralized IoT network enabling smart devices, homes, businesses, and cities.
Environmental Monitoring
Emrit has partnered with PlanetWatch who's protecting the environment with a blockchain that stores air quality data from around the world. You'll be able to earn Planet Tokens when sensors transmit valid air quality data.
5G Wireless Network
In 2022, Emrit CoolSpots™ will be available that can earn additional HNT cryptocurrency by deploying Helium's 5G wireless signal, powering the world's first, decentralized cellular network — #ThePeoplesNetwork.
Energy efficient cryptocurrency mining.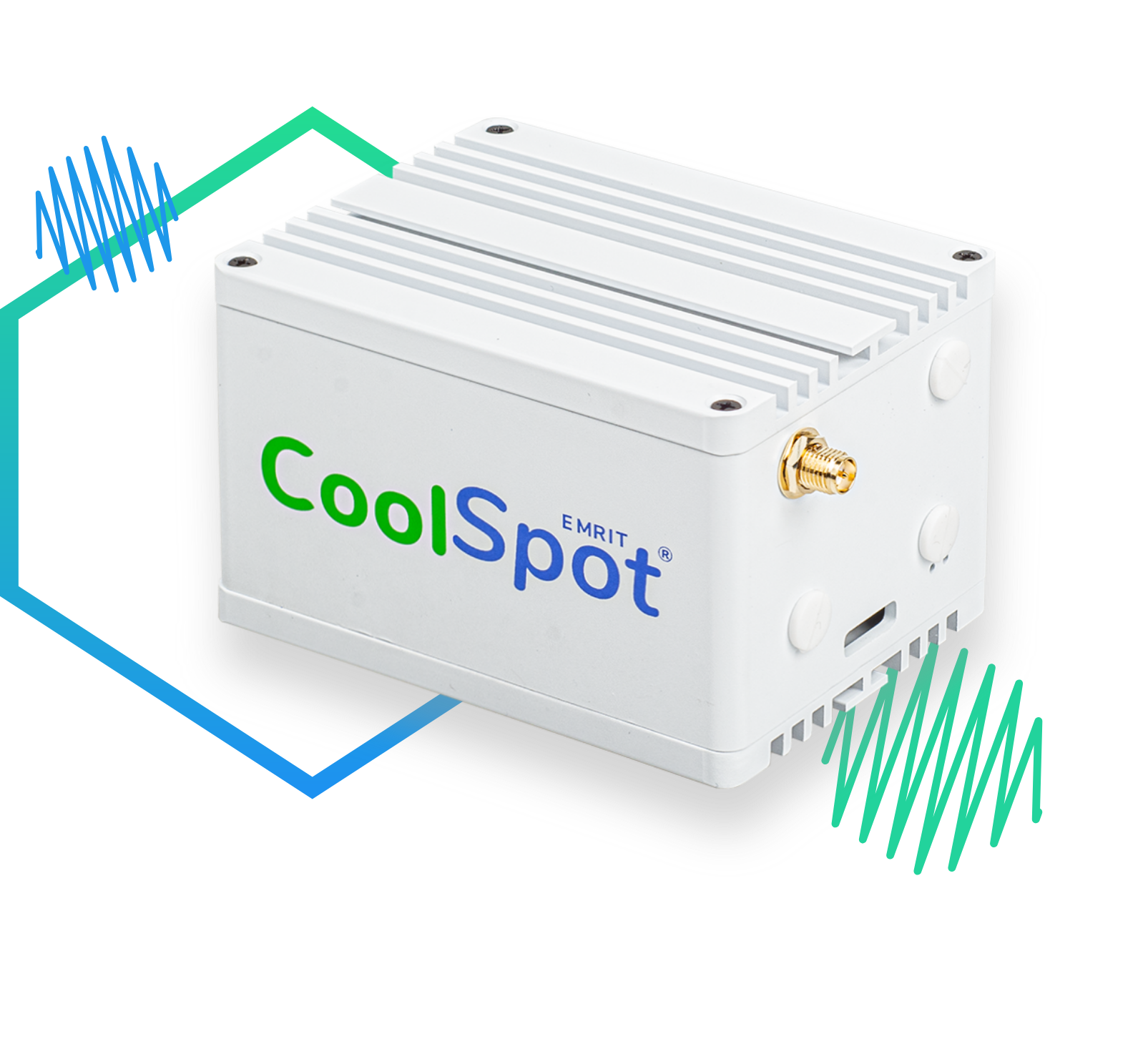 What's a CoolSpot? It's a magical little device that earns cryptocurrency rewards. How? Emrit CoolSpots run blockchain applications that do important things like:
– Build Helium's global IoT network, that is powering smart homes, smart businesses, and smart cities.
– Run PlanetWatch, that is measuring and immutably storing global air quality data.
And that's just the start. CoolSpots are hardware that earns you passive income while you help bring a secure decentralized web to reality.
Get hardware specs and setup instructions.

Get your device.
Emrit works by creating a mutually beneficial network, so once we confirm your location, we'll let you know if you're a good fit for either a CoolSpot™ or a PlanetWatch device.

Set up a digital wallet.
While you wait for your hardware to arrive, you're going to need a wallet to store your cryptocurrency earnings.

Connect your device.
Plug in your CoolSpot™ virtually anywhere. As long as there is a power source and an existing Wifi or ethernet connection, you're ready to start earning.

Start earning.
With the energy of a single 5W LED light bulb, you can start earning cryptocurrency that you can manage and invest or turn into passive income in fiat.
About Eligibility
We will analyze your installation address to assess your earning potential. Installation addresses that best help expand the Helium network will be prioritized. We will email you when you are assigned a CoolSpot and it's ready to ship. Please be patient as global supply shortages are impacting shipping times. Some locations are not good candidates for CoolSpots and may be rejected.
Sharing the wealth across streets, borders, and the world.
What's New?
Dive into our hot topics, blockchain IoT guides, and the latest updates on our technology and services here.
It's simple, you earn cryptocurrency rewards for hosting our CoolSpot cryptocurrency miners in your home or business.
First, signup to let us know you're interested. We'll check your location's earning potential to see if you qualify for a subsidized CoolSpot™ cryptocurrency miner.
If you do, we'll deliver it straight to your doorstep – where you'll earn 50% of the crypto rewards while paying less than 50% of the full retail price of a miner - $199 compared to $600+ to purchase a miner.
Setup is easy with the Emrit mobile app:
1) Plug in the CoolSpot
2) Pair to the Emrit mobile app
3) Connect to your broadband internet connection
4) Allow up to 72 – 98 hours for it to sync to the blockchain
The best part? CoolSpots are eco-friendly, taking only the daily energy of a single 5W LED light bulb.
Our devices run decentralized applications that earn cryptocurrency rewards by validating actions on a blockchain.
The first devices we're sending hosts are our CoolSpot Helium miners that earn (HNT) cryptocurrency and soon PlanetWatch air-quality sensors that earn (PLANETS) cryptocurrency will be available.
CoolSpot Helium miners transmit network coverage and pass data on Helium's IoT network– the world's first wireless network to run on a blockchain. PlanetWatch sensors use an IoT signal to collect and store global air-quality data on an immutable blockchain.
If you signup to be an Emrit host, you will get 50% of the HNT tokens earned by the helium miner for an upfront payment of $199. As of early 2022, the typical payback period for an Emrit host is 2 – 3 months. Helium miners retail for $600 USD+ as of early 2022 and most OEMs have a waitlist of up to 12 weeks. Miners purchased on the secondary market have sold for over $2,000 USD and can be very risky as scams are all over the internet. Emrit strongly advises against secondary market purchases.
With Emrit, hosts have an opportunity to mitigate risk, while still earning 50% of a miner's earnings. Different locations earn different amounts based on the density of hotspots in the surrounding area and you simply won't know how much your location will earn until your miner is online and earning. We recommend doing your research to manage expectations on your location's earning potential.
At Emrit, we believe mining cryptocurrency is a long-term investment and the best way to profit is to mine and hold. The blockchain projects we support, including Helium, are providing real-world web3 applications that provide value, and we believe their tokens will appreciate significantly over time. But of course, we don't have a crystal ball and like any investment there is significant risk of losing your entire investment - in this case $199.
Yes! Simply, sign into your Emrit dashboard where you can upgrade any CoolSpot currently earning 20% for a one-time cost of $99. You can also take advantage of The Emrit Raise loyalty program where hosts with one year of service and a 90% uptime get upgraded to 50% earnings share. Note 90% uptime = earning HNT 328 out of 365 days in the first year so not all hosts will qualify.
Helium is the fastest growing IoT network (Internet of Things), powering smart homes, smart businesses, and smart cities all over the world. Emrit CoolSpot Helium miners transmit Helium's IoT wireless signal and pass data on the network, earning (HNT) tokens.
PlanetWatch was designed to help decrease air pollution around the world by building a global air-quality monitoring network that targets pollution hotspots and provides valuable information that benefits everyone's health. PlanetWatch sensors earn (PLANET) tokens.
Our technology is secured by end-to-end encryption, with multiple layers of hardware and software, giving you maximum security for both your devices and data. No security incidents have been reported from any of our hosts. We provide the encrypted pipes for your data transfer, and only the sender and receiver will know what the data is. We do not gather, store, or monetize the data because it's all encrypted!
We use advanced technologies to ensure that your devices are secure, and there is no network snooping. On top of that, all our CoolSpots™ are:
- Hardware secured with end-to-end, chip-level encryption
- Protected from inbound port attacks
- Zero interaction with other devices on your network, besides the router
- Constantly tested for vulnerabilities
- The connection that you provide the CoolSpot™ is only used to connect your device to the Helium blockchain in the cloud, and without access to any of your data on your network.
Yes! You can refer friends and family and we will reward you with 5% of the miners' earnings for 12 months.
Nope, that's the beauty of Emrit. Our goal is to give you the opportunity to chip away at crypto mining through a hosting process, which keeps all the difficulties out of the equation for you. This means you can earn cryptocurrency by using extra space that is available in your house, business, or other locations. Get started earning today.
Start earning on the cryptocurrency mining platform made for everyone.