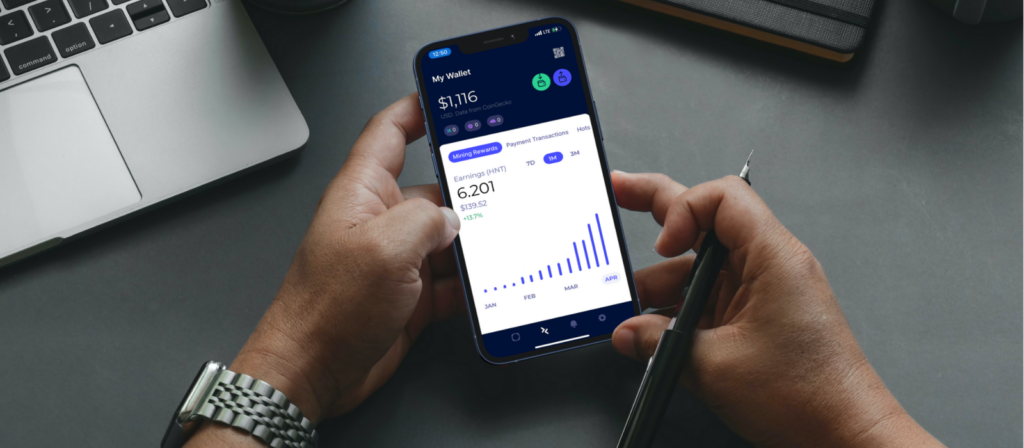 How does Emrit's payment cycle work?
Emrit hosts are paid HNT earnings on a monthly basis. The percentage of total CoolSpot earnings that you receive as a host is determined by the mining plan selected at the time of sign up. Our goal is to process the majority of host payments by the 10th of each month (EST), however some accounts do require manual review to ensure accurate payments – because with crypto you only get one chance. New hosts are paid after reaching a full month of mining.
Step 1: Create a Helium wallet
Download the "Helium HNT Wallet" app from the App Store or Google Play Store.
Create a Helium wallet or import an existing Helium wallet. If you are creating a new wallet, be sure to write down your seed words and store them in a secure location.
Note: You will be given a unique security key consisting of 12 or 24 words when a new Helium wallet is created. Please note, Emrit nor Helium can recover your seed words if lost; you are in charge of keeping this safe and secure. If you get logged out of your wallet and do not have your seed words, any HNT in your wallet will be lost. Never share your seed words with anyone for any reason.
Step 2: Import your Helium wallet into the Emrit app.
Download the Emrit app from the App Store or Google Play Store.
Log into your Emrit app, using the same credentials you used to sign up with Emrit. It is very important that you log into the app with the same email address you used at sign-up in order to receive your payments.
Go to the Settings tab and select "Import Helium Wallet" from the bottom of the menu. Follow on-screen instructions to import your Helium wallet into the Emrit app using your seed words. Emrit does not store or remember your seed words in any way.
Once your wallet has been imported to the Emrit app, select the Wallet tab at the bottom of your screen (second icon from the right).
Select "copy address" to view/copy your wallet address.
Step 3: Confirm that your wallet address is correct in the Emrit dashboard
Log into your Emrit dashboard via web browser at app.emrit.io.
Navigate to the drop-down menu by clicking the three dots in the top right corner.
Select "update wallet address" from the dropdown menu
Confirm that your wallet address is correct in the Emrit dashboard. If the wallet address field is blank or the wallet address shown is incorrect, copy & paste your Helium wallet address into the field shown below. Double check to make sure your wallet address is the same on your Emrit dashboard and your Emrit Mobile app. If there is ANY error in your wallet address, payout of your mining rewards will be delayed.
After completing these steps, you will be able to receive automatic monthly payouts of HNT directly to your Helium wallet. You can check your wallet balance at any time by signing into Emrit's mobile app or web dashboard.