How to Identify and Resolve a Relayed EMRIT CoolSpot™
You've set up your EMRIT CoolSpot in a spot right by a window. You've followed the instructions to the letter, but your EMRIT app says your device isn't working properly. Once you have activated your EMRIT CoolSpot™ on the Helium Network, you notice that your device Needs Attention because it is operating in Relayed mode.
What is "relayed mode"?
Relayed mode means that your CoolSpot is not able to receive incoming messages from the Helium network through your Internet router. 
As a result, all communications from the Helium network must be transmitted across LoRaWAN through one or more nearby peers. Relying on another Hotspot to pass messages to you is very inefficient and will negatively impact your earnings.
Read on to learn how to identify whether or not your Helium CoolSpot is being relayed and how port forwarding may be used to resolve the issue.
Are You in Relayed Mode?
01.
Open and log into the EMRIT app.
Log into the EMRIT app using your Password or PIN.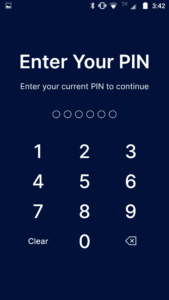 02. Find your CoolSpot on the Explorer map.
To see if your CoolSpot is being relayed, in the EMRIT app, either:
Click on the globe icon to access the Helium Network Explorer map (or open

Helium Network Explorer

in a web browser). Locate your CoolSpot on the coverage map. 
Alternatively, click on the shortcut to your CoolSpot near the bottom of the EMRIT app. For example, see the "Elephant" CoolSpot in the following screenshot.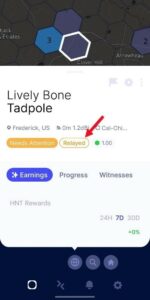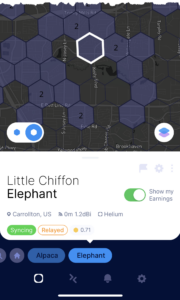 2. Search for your CoolSpot if you're having trouble finding it.
If you are unable to locate your CoolSpot on the coverage map, you can search for your CoolSpot Animal Name using the three unique words that are attached to the device (For example, Lively Bone Tadpole).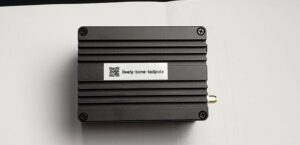 NOTE: If the name cannot be found on your device, login to your Emrit account and locate your CoolSpot animal name on your dashboard.
03. Your device is in Relayed Mode when "Relayed" is displayed.
If your CoolSpot is in Relayed Mode, the device status window will show the device Needs Attention (or is syncing) and that data is being Relayed.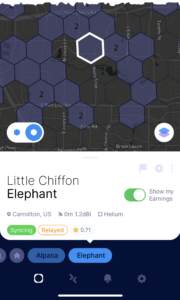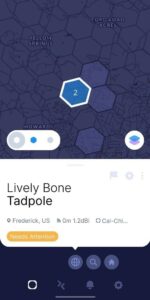 Fix Relayed Mode using Port Forwarding
If your CoolSpot is being Relayed, this can usually be resolved by implementing port forwarding. Port forwarding "opens" the required port(s) through your Internet router. Opening the port(s) allows the CoolSpot to achieve direct peer-to-peer connectivity so that messages no longer need to be relayed from a neighboring network device.
Your CoolSpot uses three ports:
TCP Port 44158

is used for inbound and outbound Helium communications for your CoolSpot. (This is the critical port that must be opened.)

Additionally, Helium gateway devices also use the following two ports for outbound communications only. Port forwarding for these ports is not generally required since outbound ports are typically open by default. 

TCP Port 22 (Support)

TCP Port 443 (Firmware)
Setting up port forwarding on a network router varies by manufacturer.
Please refer to

www.portforward.com

  and click on

Router Guides

for information on how to set up port forwarding for your specific router make/model.

NOTE: With most Internet routers, port forwarding is associated with a single device. You cannot open a port to more than one device on your network.
Did Port Forwarding Work?
It takes time for the Helium network to reflect a change in status. Once port forwarding is in place for a CoolSpot, it may take 24-48 hours for the Relayed status to clear on Helium Network Explorer.
If the

Relayed

issue persists or returns, check to see if

TCP Port 44158

is open. You can verify the settings on your router or by using a port-checker tool using the following steps:

NOTE: If you are using a VPN (Virtual Private Network), turn this off for the duration of this test. It can block the port testing tool.

Find the IP address assigned by your ISP (Internet Service Provider) by checking the device status within your router. Alternatively, you can get your IP address here:

https://www.whatsmyip.org

 

Run the port tester tool:

https://www.yougetsignal.com/tools/open-ports

 
Enter your IP address into "Remote Address" along with the port number: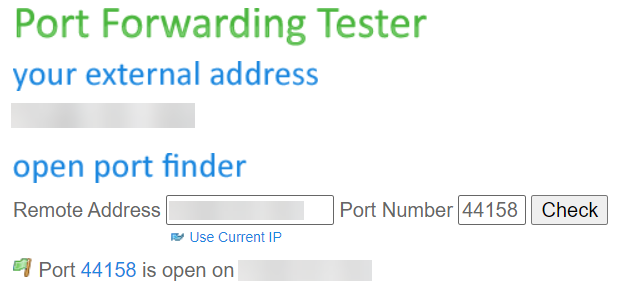 Always keep an eye on your Emrit app!
The beauty of the Emrit app is that it can keep you posted and your CoolSpot's connectivity issues anywhere in the world. Whether you're out shopping, grabbing a bite of food, or in line at the movies – your app will notify you of any issues. It's an accessible, easy way to check the viability of your connection and make sure your device is able to collect earnings.
Use the app to keep track of your CoolSpot's income in the last day, week, or month, and see if you can optimize its location in your home. 
The CoolSpot is a small piece of technology that won't interfere with your home decor while building the future of the web and sharing its income with you. So, pick a cool spot for your CoolSpot and join the digital revolution!
Port forwarding video references:
Free port-forwarding tools:
Keep in touch with EMRIT and the latest news on our company: