Setting Up Your EMRIT CoolSpot™
Your EMRIT CoolSpot™ allows you to quickly and easily begin mining Helium Network Tokens (HNT) from the Helium Network while also providing gateway services for encrypted LoRaWAN Internet of Things (IoT) devices.
This article provides step-by-step instructions for using the EMRIT App to get your EMRIT CoolSpot up and running and synchronized with the Helium Blockchain.
Finding a cool spot for your EMRIT CoolSpot
You'll see how easy it is to find a cool spot (pun intended) for your EMRIT CoolSpot device.
Find a space for it indoors, at the highest possible position, right on a window. It's small and unassuming enough not to interfere with home decor.
Once set up, it will begin to collect earnings for next to nothing. The only food it needs is a negligible amount of energy (the equivalent of a 5W lightbulb) and access to your internet connection.
01. Take your new CoolSpot out of the box (EMRIT CoolSpot by RAK Wireless is shown). The three unique words on your CoolSpot (for example, Lively Bone Tadpole) are your CoolSpot name and how EMRIT tracks your earnings payouts.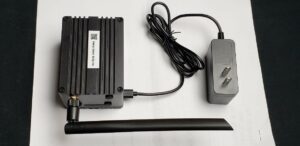 02. Download and fully install the latest version of EMRIT App to your phone (iOS/Android). Login to the app using the EMRIT username and password you created when you ordered your CoolSpot.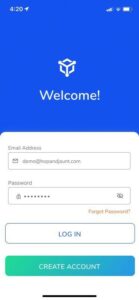 03. Select Add CoolSpot, choose your CoolSpot type (refer to the label on the unit or the shipping box), and then proceed to the Power Up screen.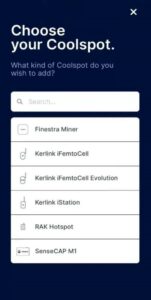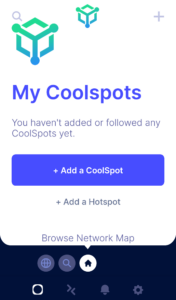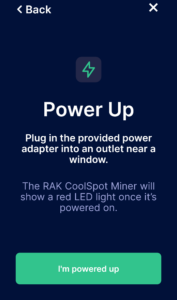 04. Attach the antenna to the CoolSpot and center it in front of a window at the highest possible position with a clear view.

NOTE: The antenna must be attached before connecting power. If you connect power before the antenna is attached, you can damage your CoolSpot.

05. Connect the power. Powering up your CoolSpot starts a 1-minute boot followed by a 5-minute window where you can pair the EMRIT App to the CoolSpot using Bluetooth.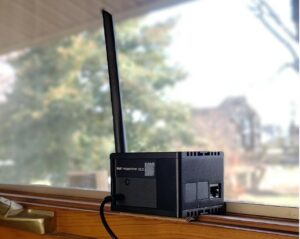 06. Use the EMRIT App to scan for your CoolSpot and pair with it over Bluetooth.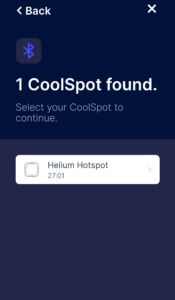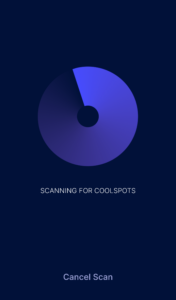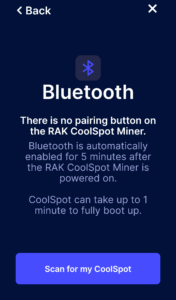 07.  NOTE: Need more time? Simply disconnect CoolSpot power, wait 20 seconds, then reconnect power to get another 5-minute pairing window.
Connect the CoolSpot to the Internet using Wi-Fi or an Ethernet cable. Use the EMRIT app to choose your local network and enter your network password.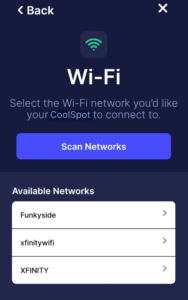 08. When you reach the Success screen below indicating Your CoolSpot was activated, the activation process is complete. Congratulations! Your CoolSpot is now connected and begins synchronizing.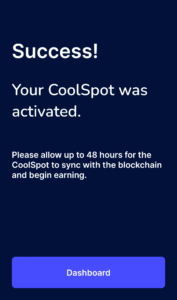 NOTE: The synchronization process with the Helium blockchain could take several days. Please be patient.
09. As the CoolSpot synchronizes, you may notice that it is transmitting in relay mode. For information on how to resolve this issue, please refer to our blog post How to Identify and Resolve a Relayed EMRIT HotSpot.
Keep track of your progress and earnings in the free EMRIT app from anywhere in the world – whether you're in line at the deli, out shopping, or on vacation, you'll have complete insight into your EMRIT CoolSpot's work right on your phone! It'll notify you if your CoolSpot needs attention, and contains data about earnings and activities by day, week, or month.
For More Information and Latest News
Join #TeamEmrit on Discord and become part of the future of the internet: www.discord.gg/emrit 
Join Emrit on LinkedIn for the latest news: www.linkedin.com/company/emrit
Read how we are growing our business and let us sell you on our game plan! https://bit.ly/emritplan
Questions or issues? Contact support at Success@Emrit.io